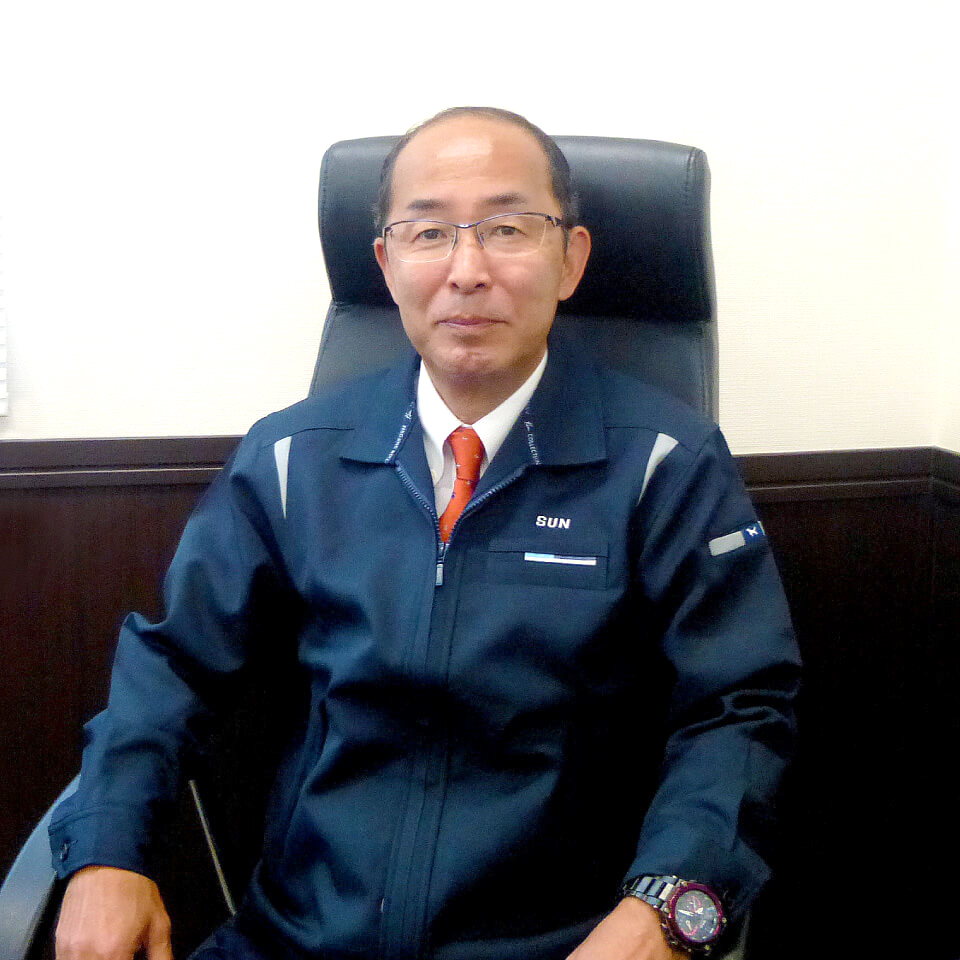 Message from the President
IT products such as mobile phones and PCs that continue to evolve every day.
These are evolving as tools to support human life.
The Flat Panel Display (FPD) is used for the Man-Machine Interface that plays its most important role.
Sun Industries manufactures this FPD protective plate using superior Printing Technology and cutting technology.
In addition, many of Sun Industry's products, such as induction light panels and amusement cosmetics, are closely related to daily life, making your life richer.
Also in terms of quality, we acquired ISO 9001 in July 2007 and have earned high trust from our customers.
Products manufactured by Sun Industry are all compliant with RoHS, and we are a future-friendly company that is kind to the earth.
From now on, Sun Industries will continue its corporate activities with the goal of "good products, good cost performance, on time delivery".
President and CEOTakaaki Nakagawa
Company Profile
Company Name
Sun Industry Co., Ltd.
Capital
40Million Yen
President and CEO
Takaaki Nakagawa
Executives
Director / Mitsuhisa Taguchi
Director / Niino Katsuhiko
Director / Hiroyuki Sakamoto
Outside Audit / Kiyoshi Kawazu
Number of employees
110
Location
Zip-code:660-0095
2-49,Ohama,Amagasaki,Hyogo,Japan
Contact Information
TEL:06-6418-0126 / FAX:06-6418-0181
Bank
The Shoko Chukin Bank, Ltd.
MUFG Bank, Ltd.
THE SHIGA BANK,LTD.
The Shikoku Bank, Ltd.
Links
・The Advanced Materials Processing Institute Kinki Japan(https://www.ampi.or.jp/leading/008/)
Corporate History
| | |
| --- | --- |
| Sep. 1969 | Daiya Industrial Co., Ltd. established with capital of 10 million yen |
| Dec. 1969 | Head office plant operation started |
| Oct. 1980 | Changed company name to Sun Industry Co., Ltd. |
| May 1981 | New Motohama plant established |
| Feb. 1982 | Relocated headquarters and headquarters plant (attached to Motohama factory) |
| June 2000 | Increased capital to 40 million yen |
| Sep. 2007 | Obtained ISO 9001 certification |
| Feb. 2008 | Completion of new plant |
| Jul. 2010 | Obtained ISO 14001 certification |
| Sep. 2017 | Transfer operations and equipment from Diatec Co., Ltd. |